CHANTAELL BARKER
.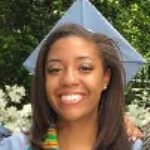 EASTSIDE, 2010
BARNARD COLLEGE, 2015

Chantaell Barker has long been fascinated by the idea of living in a sustainable community, and as part of her major in Urban Studies at Barnard College in New York City, she is learning more about the ways social, political, economic, and cultural factors can affect the well-being of a city.
She spent a summer promoting the well-being of other women at the Anita Borg Institute for Women and Technology. The institute aims to "increase the impact of women on all aspects of technology, and increase the positive impact of technology on the world's women." 
As an intern, Chantaell helped to organize workshops at the TechWomen conference, assisted with research related to the Grace Hopper conference about retaining and promoting women, and helped to identify worthy scholarship recipients through the National Science Foundation. She and her fellow Eastside alumna Margarita Perez wrote a guest blog entry for the Institute reporting on the TechWomen conference.

"They trust me with real work," says Chantaell of her internship, adding, "I'm learning a lot."

When she was at Eastside, Chantaell got used to working hard. The 2010 grad says she felt well-prepared in college because "the classes at Eastside are college-level classes. Some of my current classmates aren't used to the level of work they're finding in college, but projects like SRI prepared me to do real research papers later on." 

One of her biggest pieces of advice for current Eastside students is to "stay in touch with Eastside and take advantage of the support they offer." Eastside's Alumni Support Program and new Career Pathways Program are designed for alumni like Chantaell, first-generation college students who are also new to the challenges of navigating the professional world.

Chantaell says it meant a lot to have friends at Eastside who were also going to be the first in their families to attend college. "We were all in a similar position and now I have those friends for life."

Chantaell Barker graduated from Barnard College with a B.A. in Urban Studies. She is currently a project administrator for the Real Estate Development Team at Eden Housing, which provides housing and services to low-income families.

Profiled in the summer of 2011