MARIA VAZQUEZ MATA
.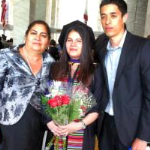 EASTSIDE, 2006
SANTA CLARA UNIVERSITY, 2010
U.C. HASTINGS COLLEGE OF THE LAW, 2013
When Maria Mata found herself enthusiastically preparing for and participating in mock trial competitions while she was still at Eastside, she knew she wanted to be a lawyer. She looked forward to receiving her competition binder - which detailed the criminal cases she would use during the competition – and relished the process of understanding every detail of a case and making her arguments.
But looking at a future career in law was daunting. 

"I was very hesitant about applying to law school. I did not know any attorneys. I did not know what it was to even apply to law school. I had to learn a lot of that stuff on my own. Perhaps the most difficult point was sitting to take the LSAT less than a week after having lost my father to diabetes. Ultimately, although it was very difficult, I decided to pursue a legal career because I could not see myself pursuing any other career that would be as rewarding." 

Maria graduated from Eastside in 2006 after spending three summers interning in Hewlett-Packard's human resources department, then legal department while in high school, thanks to Eastside's alumni program. Once in college, she interned at the Santa Clara District Attorney's office, at the San Mateo District Attorney's office, and as a post-bar clerk at the San Francisco District Attorney's office. She says each of these opportunities allowed her to develop skills, better understand law, and continue to meet mentors.

Her goals were clear and her path led her to Santa Clara University and then to the University of California, Hastings College of the Law, where she received her J.D. in 2013. She plans to practice criminal law with the goal of becoming a prosecutor, which she says is rooted in her experiences as well as those of family, friends and neighbors in East Palo Alto. 

"Most of us grew up seeing drive-bys, drug dealings and shootings in our streets on a regular basis. To me, my experiences having confronted these realities very closely motivated by desire to pursue a legal career and keep communities like my own safe. I also believe that I can provide a new perspective having been not only a victim of crimes, but also being familiar with those causing the harm." 

Maria credits Eastside with instilling in her the confidence to know that she belonged in law school, and belonged in the courtroom. In her speech at Eastside's 2013 graduation ceremony, she impressed upon the graduates that they have earned their place in college and can accomplish great things:

"I stand before you as a living example that others will invest in you to help you accomplish your dreams if you demonstrate through your efforts your own commitment to achieving your goals in life. I stand before you as a living example that you can achieve with your life more than you ever dreamed for yourself."

Maria's advice for today's high school students is to learn outside of school: "Learning does not just happen in the classroom. Internships, for example, will offer you the opportunity grow personally - develop skills, learn new ones, and meet great mentors. Volunteer opportunities will also offer you the opportunity to stay connected and motivated. There will always been someone, wherever you are, who can use your skills, your time, and your knowledge."
Profiled in the summer of 2014